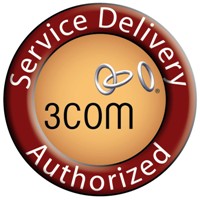 "3Com® security, voice, wired and wireless, network management and service products provide the integrated portfolio that public and private sector organizations of all sizes need to ensure business continuity. They help close the gap between business growth and security risk with innovative, standards-based secure, converged networks.

An award-winning intrusion prevention system and robust centralized management capabilities tie together the broad selection of end-to-end 3Com solutions—from the edge to the core of the network, from 3Com IntelliJack® switches for strikingly easy port expansion to secure wireless LANs, terabit core switches, stackable switches, WAN routers, and IP telephony platforms.

Supported by research, development, and support services around the world, 3Com delivers communications systems that reduce network complexity and costs. 3Com networking architecture is designed to help network managers implement new technologies quickly and gain a fast return on investment."